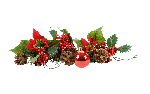 We hope everyone enjoyed their Christmas time and have now set new plans, dreams and expectations on the upcoming New 2014.
In 2013, we, at Lonex, did a major re-design of our website and added lots of new features to the Lonex Control Panel with the sole intention of making your website management experience much safer and easier.
Since we never stop striving for more, our big Christmas wish was to manage to turn into reality all new service enhancements and cloud hosting system upgrades added to our agenda for the knocking-on-the-door new year.
The list of planned improvements is really long so stay tuned for more new specialties and surprises from the Lonex kitchen.
Now is the time to wish all of you a Healthy and Prosperous New Year!
Happy Holidays!
The Lonex Team